[/fusion_text]
[/fusion_text]
[/fusion_text]
Dick Verdult – It Is True But Not Here

Dick Verdult (Eindhoven, 1954), also known in Latin America as Dick El Demasiado, is an enigmatic artist and cult musician whose work revolves around surprises and accidents that originate from the encounter of cultures.
director: Luuk Bouwman
production: NEWTON film, seriousFilm
language: Dutch, Spanish, English, French
subtitles: Dutch, English, Spanish
length: 60 minutes for television, 70 minutes for cinema
audio: 5.1, stereo
available on: DCP, DVD, h264
The career of Eindhoven-based artist and musician Dick Verdult spans decades. He is seen as an outsider, as 'the last Dada-ist'. But what we experience as elusiveness turns out to be quite controlled and firstly funded on very personal experiences from his childhood as a 'Philips child' in Latin America. Rather than experiencing globalism as a problem, Verdult is like a cheerful, transcultural mutant. We see how, at the age of 60, he has become a cult musician in South America, Russia and Japan and is increasingly recognised internationally as a visual artist. This documentary explores Verdult's multidisciplinary, international art practice. We see Verdult at work in his studios in Bergeijk (The Netherlands) and Calanda (Spain) and on tour in Peru, Colombia and Argentina.
ISAN 0000-0004-679A-0000-I-0000-0000-K
logline
'Dick Verdult – It Is True But Not Here' is a documentary about the enigmatic artist and cult musician Dick Verdult (Eindhoven, 1954), known in Latin America as Dick El Demasiado.
synopsis
Dick Verdult is an artist and musician who defies categorisation. His work is humorous and elusive. Reviewers use words such as 'unsettling', 'unfathomable', and 'illogical'. This documentary demonstrates Verdult's versatility. He builds installations, paints, writes, and makes music. Whereas many artists try to be recognizable, Verdult uses any and all media. He is not part of anything.
Verdult has a thick southern Dutch accent, but switches effortlessly to Spanish, English, or French. He grew up in Latin America as the son of a Philips employee and studied film in Paris in the aftermath of the May '68 student revolts. His experiences of various cultures determine his maverick outlook. Being so uniquely familiar with de immense diversity of perspectives, he sees links and curious things where others won't. Sometimes, his childhood experiences resurface quite directly in his work. Rather than experiencing globalism as a problem, Verdult is a one-man multinational, an experienced and cheerful transcultural mutant.
The documentary shows the various paradoxical sides of Verdult. Although political themes pervade his work he is averse to unequivocal political statements. 'If you ask me what it's about, that's what it's about.' Despite the idiosyncratic character of his work, Verdult is not a Martian. He is a family man and surrounds himself with young friends. The strategy for his seemingly 'deranged' performances and installations are meticulously planned many months ahead.
The film follows Verdult while he makes music and produces works of art, in his studios in Bergeijk (The Netherlands) and Calanda (Spain) and on tour in Peru, Colombia and Argentina. His unbridled creativity and his use of any and all media prove to be an inspiration to younger people.
Luuk Bouwman (Oss, 1977) studied film at the Art Academy St. Joost in Breda. He made items for experimental TV program 'Waskracht!' (VPRO). In 2001 he founded Tropisms.org – a documentary vlog on the internet. He previously made 'The New West' (60min, VPRO, 2006), 'Dark Oss' (70min, Omroep Brabant, 2011) and 'The League Against Swearing' (52min, EO, 2015). From 2004 until 2012 he played guitar in the techno-punk band Aux Raus, they recorded three albums and toured all over the world. He has a bi-weekly radio show on Red Light Radio, and makes electronic music together with Rafael Rozendaal, as Cold Void.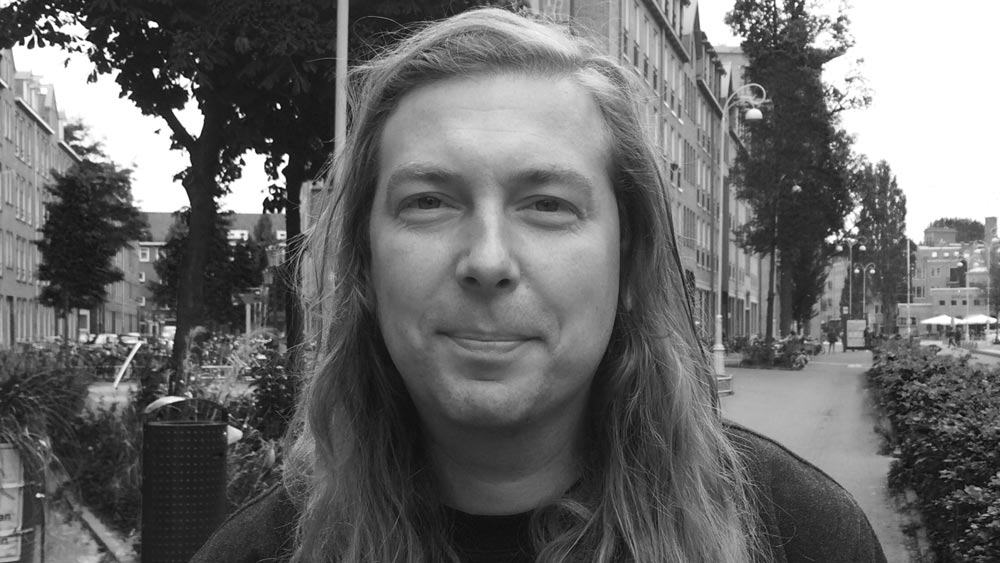 Director's statement
People kept asking whether I knew Dick El Demasiado, apparently a Dutchman, successfully playing experimental music and singing in Spanish. We met on several occasions, afterwards. Verdult's music, his humor and the young people surrounding him everywhere, impressed me.
It wasn't until I saw his major exhibition at the Van Abbemuseum that I understood the scale of his 'enterprise': his many pasts and presents as a filmmaker, visuals artist, writer. His music and the invention of his alter-ego Dick El Demasiado were just one of the many concepts that resulted from his multidisciplinary artistic practice. The Mexican curator Cuautémoc Medina wrote: 'Dick doesn't stay within the four walls of his material. He is an artist that is always spreading out. He is, in essence, without beginning nor end, an answer to the overwhelming monstrosity of life.'
With his capricious, uncompromising and adventurous work and his multidisciplinary practice, Verdult appears as a link between the anarchism of the 1960's, the Do-It-Yourself attitude of the 1980s and the current Internet generation.
In a rather anxious cultural climate of xenophobia, Dick Verdult's obvious pleasure in the complexity of a globalising culture, as well as his generosity towards others, is refreshing and necessary. This freedom is the energy that drives this film.
About Dick Verdult
Dick Verdult's (Eindhoven, 1954) artistic practice includes films, performances, graphics, sculptures, drawings, radio broadcasts, text and music. Verdult works as an individual, but also as a driving force behind the creation of different groups. With his wide orientation he didn't fit within the applicated disciplinary boundaries. […] Now, however, his artistic diversity makes him a precursor of today's hybrid art practice. His doing seems precisely fit to represent and understand local and global realities in the current decade.
– Catalogus Van Abbemuseum, Eindhoven (NL)

Verdult savours the moment of surprise, the clash, the accident: the moment when things collide and something new has to come about, when something -or someone- is forced to change. This confrontation with a notorious reality often causes a confusion that we, as witnesses, turn into laughter, but it is the kind of humour that we sense is not necessarily meant to be funny. Humour is only the emergency exit to which Verdult has left the door open, even though he would prefer other reactions.
– Andreas Broeckmann, curator/ kunsthistoricus (DE)
Cumbia has steadily spread to the world in the past several years and into the club scene as well, led by Manu Chao and this eccentric Dutch man based in Argentina, Dick El Demasiado. If Manu was missionary style, Dick is stand-up doggy style.
– Shinya Matsuyana (Japan)
Dick [is] known as the godfather of experimental cumbia in Argentina. […] The second edition of the Festicumex, held in Buenos Aires in April 2003 – bringing together cumbia, electronica, and regional folk music from the interior provinces of Argentina – would later be remembered as a historic moment in the city's experimental music history."
– Bridget Gleeson, BBC (UK)
You reach, but you don't touch. You follow the choreography Verdult has mapped out: an absurdist choreography, full of random beauty and compassion. When everything has been watched, but not necesarrily fully understood, you then depart, knowing you have experienced something special.
– Lucette ter Borg, NRC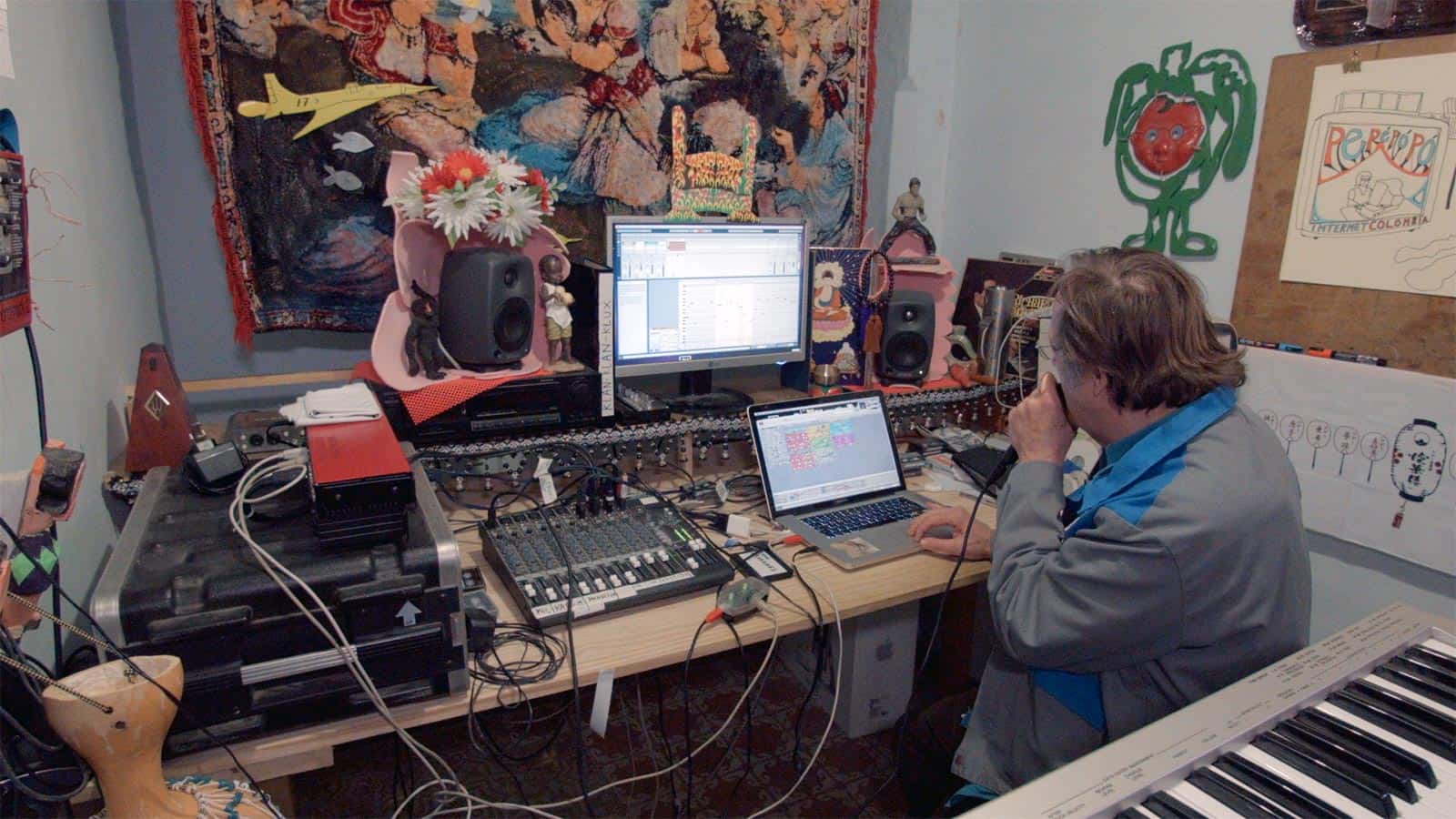 special thanks to
Dick Verdult
Maria van Heeswijk
Julio Lozano
Francisco Toquica
director / cinematographer
Luuk Bouwman
editor
Barbara Hin
sound design / final mix
Jeroen Goeijers
additional sound
Bram Meindersma
grading / deliveries
Laurent Fluttert
compositing / VFX
Jos Wabeke
assistent editor
Sandro Ligtenberg
music
Dick el Demasiado
second camera
Frederik Duerinck
Alejandro Maly
live music recordings
Pablo Berardi
production assistants Colombia
Francisco Toquica
Francesca Sanin
production assistants Peru
David Pimentel
Pablo Fernandes Grandez
production assistant Argentina
Pilar Casanova
intern
Sofie van der Graaf
spanish translation
Melissa Tulkens
Debora de Weert-Schuit
Karin Iturralde
executive producer
Ton van Zantvoort
production
Omroep Brabant
NEWTON film
seriousFilm
commissioning editor Omroep Brabant
Lout Donders
commissioning editors co-producers
Ton van Zantvoort
Koert Davidse
Marc Thelosen
This film was realised with the support of the Dutch Cultural Media Fund and Brabantse Beauties

advice
Maurice Trouwborst
Frederik Duerinck
Peter Boonstra
Kees Hin
Stefan Mayakowski
Frank van Reemst
Joost Verhey
Hugo van Heijningen
Niels Post
Bram Swarte
David Kleijwegt
Martha Jurkiewicz
Lonneke Gijsbers
Michiel Schuurman
thanks are due to
1646 Gallery Den Haag
Art Rotterdam
Annet Gelink Gallery
Annet Gelink
Floor Wullems
Kunststof radio, AVRO
Gimme Shelter / Fort Asperen
European Ceramic Work Centre,
's Hertogenbosch
Red Light Radio
Stedelijk Museum 's Hertogenbosch
Bastiaan Lips
Joost Conijn
Peter Cox
Luk Sponselee
Lientje Somers
Josephine Bosma
Wim Langenhoff
Harun Bahasoean
Kees Brienen
Alma Mathijsen
José Luis Garcia
Andreas Broeckmann
ARTBo Colombia
NacionRock Argentina
Salon Pueyrredon
El Sudaca Nos Ataca
Zinema Zombie
Pablo Marin Angel
Chucky Garcia
Paulo Licona
Maria Isabel Rueda
José Enrique Plata Manjarrés
Andres Franco
Francisca Sanin
Victor Albarracin
Judy Carrera
Rodrigo Duarte
Fabio Alberti
Marcelo Domizzi
Diego Zenobi
Rob Conlazo
Manu Schaller
Diego Seoane
Nico Kokote del Porto
Pancho Muñoz
Pato Perrazo
Paula Herrara, Casa Animal
Silvina Sodero
Manuela Johanna Covini
Festival/ broadcaster
City/ country
Date
time
tickets
DOCfeed / National Premiere
TAC, Vonderweg 1, Eindhoven
16-02-2017
20.00
order
DOCfeed
TAC, Vonderweg 1, Eindhoven
17-02-2017
20.30
order
LAB 111
LAB 111,

Arie Biemondstraat 111, Amsterdam

18-02-2017
19:30
Omroep Brabant
TV broadcast/ Brabant
18-02-2017
22:00 +
0.00
World Premiere
will be announced soon
"Elusive, unpredictable, a phenomenon. An invigorating elixir, this film."
"A complete, loving image of an enigmatic, tireless artist."
" Go to the film about Dick El Demasiado, if you know what's good for you."
"The prime example of a movie that inspires and
encourages you to live without compromise."
"The film is filled with what is missing in our daily life so much."