GRITO de PIEDRA
Tourism becomes the miners new vein, when Lonely planet discovers the fascinating hardships of the silvermine. This lyrical documentary with social economical undertone, resists the temptation of interview.
In an observing way GRITO de PIEDRA (SCREAM of the STONE) gives an inside view of the lives of Gavino and Pedro Montes. Gavino is a miner in the Cerro Rico in Potosí, Bolivia. His son Pedro, a 23 year old student, works as a tourist guide in the same mine. Over the last decade, tourism has discovered Potosí and the fascinating hardships of the silver mine. Already, tourism has left its marks on the town and its people.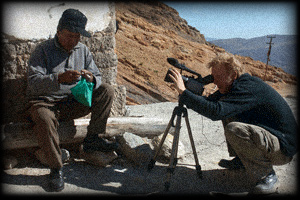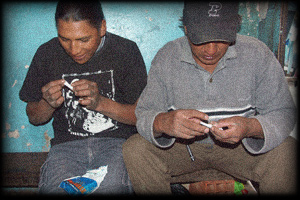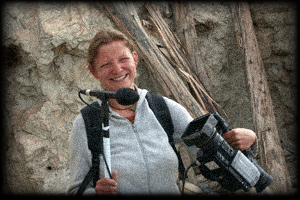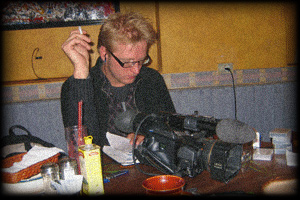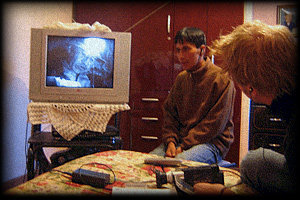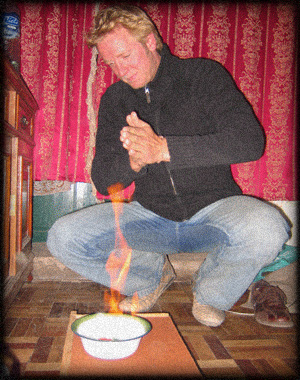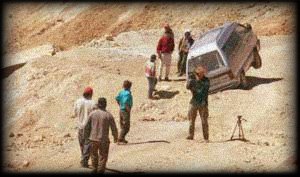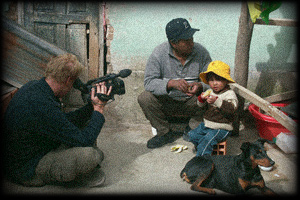 GRITO de PIEDRA behind the scenes
From the director
Gavino and me. We spent a lot of time together, which was needed to get the best result for the film. In the beginning he and his family were very much aware of me and the camera, but after a while I could start the real filming. In the end it was really difficult to 'make an appointment', because he and his colleagues were drunk most of the time (and nobody knew where they were.)
Miguel and Gavino are rolling a real Dutch cigarette that I brought from Holland.
Miguel is the brother of Inez (so that makes him Gavino's brother-in-law). After Gavino's first wife died, he remarried with Inez. Pedro (the tourist guide) is his son from his first marriage. Gavino and Inez have 6 more children of which Ariel is the youngest. He became three during the shooting.
To break the ice and to get to know the family, you sometimes have to literally play along. The children were playing 'blind cow' outside: a game where you get blindfolded and have to seek the rest. Everyone was very much enjoyed when the tall Dutch guy plays along. Gavino has nine children and I tried to exclude most of them from the film; otherwise it would have been much too complicated (for the viewer).
When Etienne (assistant) first left Potosí, Tanja took over. We had a lot in common and working together went amazingly great. She is a 29 years old Austrian girl that lived in Holland for the last six years to study anthropology. Supporting the film was a good experience for her and I could not have done this without her. When she left after a few weeks, Etienne took over again and there was still much work to do.
'La Plata' was my favourite restaurant in Potosí. It was too cold to work in the hostel, so I had to flee to bars or restaurants, that aren't the best place to work. In this restaurant I spotted most of the material. Here I also discovered that crucial scenes were completely ruined, because of the dust in the camera. I tried to arrange another camera at the local television station. The only camera they had available, was an 1ccd home video camera, which I already brought myself. In the end, an air compressor combined with the 95% alcohol did the job and we could continue the shooting.
After more than 3 weeks translating (of sometimes 14 hours a day) I was exhausted. José Luis (in the picture) was the best translator out of seven that I had worked with. The first translators we worked with actually didn't speak good Quechua. But because they wanted to make some money, they just created their own story and made something up. We had more than 22 hours to translate. Most of it was a 'drunk- coca leaves- spanish- quechua mix'. Even Pedro (Gavino's son) sometimes could not understand what his drunk father was saying.
This is in the third hostel "Maria Victorie". The longest I stayed in "Compania de Jesus", but after a while I tried to bypass the routine by just checking in other hostels. The last few days I even stayed in a hotel…. were my money got stolen.
This photo isn't exaggerating. The last few weeks it was getting colder and colder. Etienne and I had to sleep with our clothes, socks and cap on.
Jackeline -one of the translators- used the Buen Gusto (95% pure alcohol) to warm up her place and we followed her example. With the door and windows closed it would get a little warmer, but there was also even less oxygen. At an altitude of 4200 meters, there is already 60% less oxygen in the air.
By burning alcohol in the room at night, it was indeed a bit warmer, but you'd really wake up with an headache in the morning.
GRITO de PIEDRA credits
60 minutes, November 2006, 
PRODUCTION COMPANY 
NEWTON FILM
PRODUCED BY
TON VAN ZANTVOORT & ANNEROSE LANGEVELD
DIRECTING, CINEMATOGRAPHY & EDITING BY
TON VAN ZANTVOORT
SOUND & FIRST ASSISTANT
TANJA PLASIL
ETIENNE VAN NULAND
MUSIC COMPOSED BY
NICO-JAN VAN DE KOOT
TRANSLATION BY
JOSÉ LUIS BURGOS GARCIA
JACKELIN GUITIERREZ
PEDRO MONTES
KOEN LANGEVELD
ETIENNE VAN NULAND
FLEUR HENKES
SUPPORT & ADVISE
WOUTER VERHOEVEN, GIEL VAN SCHAIJK
MARCEL MELCHERS, STIJN VAN EEKELEN
MARIJKE DE BIE
SPECIAL THANKS TO
THE FAMILY MONTES
GAVINO, INES, JEMENA, PEDRO, ELIZED
EMILENE, DELIA, GENARO, SOLEDAD
SIRLEY, ARIEL & FELIX
MIGUEL SEVERINO & ALICIA
SIMON, SABINA & JAIME CHOQUE
THE GUIDES
EFRAIN MAMANI, ROLANDO COLQUE
PEDRO (BLANCO) MONTES, WILBER &
EDUARDO GARNICA
THE TOURISTS
MARIO CASTEXS, SAMUEL JAKOBSSON
CHRISTOFFER KREWER, SONJA KEFFER
ADRIAN McCORMICK, CARMEL WIGGINS
ALSO THANKS TO
RICARDO ARANSILIVIA, LA CASERO
VIVI CARVAJAL, RICHARD LADKANI
KATHERINE HOURELD, COMZINC SRL
MARGRET KAMPHUIS
&
FAM VAN ZANTVOORT, FAM LANGEVELD
MARIJN VAN KREIJ, BAS VAN GENUGTEN
SABRINA SANCHEZ, TOINE DE JONG
KURT COOIJMANS, RITA STOFMEEL
ARAM VOERMANS, FRANK VAN MOURIK
ILONA VAN DER REIJT, NGN PRODUKTIES
YVETTE SIERRA PRAELI, FLEUR HENKES
AND EVERYBODY THAT MADE THIS FILM POSSIBLE
FINANCIAL SUPPORT BY
FONDS BKVB
THUISKOPIE FONDS
NBKS
ISAN 0000-0003-DFF3-0000-D-0000-0000-Z
GRITO de PIEDRA screenings
| Channel | Day | Date | Time | Additional |
| --- | --- | --- | --- | --- |
|  VPRO |  Sunday |  04-03-2018 |  21:01 |  NPO Cultura |
|  VPRO |  Tuesday |  06-03-2018 |  17:55 |  NPO Cultura |
|  VPRO |  Wednesday |  07-03-2018 |  14:01 |  NPO Cultura |
|  VPRO |  Friday |  09-03-2018 |  14:21 |  NPO Cultura |
| | | | | |
| NPO Doc | Saturday | 07-02-'15 |  17:11 | |
| NPO Doc | Sunday | 08-02-'15 | 05:43 | |
| NPO Doc | Tuesday | 10-02-'15 | 17:17 | |
| NPO Doc | Wednesday | 11-02-'15 | 21:23 | |
| NPO Doc | Thursday | 12-02-'15 | 16:13 | |
| NPO Doc | Friday | 13-02-'15 | 06:31 | |
Previous  screenings
World Premiere IDFA
City 2
Calypso
City 4
City 3

Amsterdam
Amsterdam
Amsterdam
Amsterdam
Holland

Sat
Tues
Wed
Fri

Nov 25
Nov 28
Nov 29
Dec 01

17.00
14.00
20.30
20.15
Ecofilms festival
Rhodos
Greece
Wed
Jun 20
17:20
Festival de Cine y video
de los derechos humanos
Sucre/
Potosi
Bolivia
Mon
July 30
Aug 29
19:00
Netherlands Film Festival
Hoogt 2
Hoogt 3
Hoogt 3
Louis Hartlooper Complex 4
Utrecht
The Netherlands
Thur
Fri
Sun
Mon
Sep 27
Sep 28
Sep 30
Oct 01
16:00
18:00
22:15
11:45
Festival International
de Cine Documental
Mexico
Mexico
Sat
Sept 29
–
Medimed market
Sitges
Spain
Sat
Oct 12
–
Astra film
Sibiu
Romania
–
Oct 22-28

–
Margaret Mead Film &
Video Festival
New York
U.S.A.
–
Nov 10
16:15
Groene Engel Film Festival
Oss
The Netherlands
Sun

Mon

Tue

July 19

July 20

July 21

20.45

20.30

21.45

Pärnu International
Documentary & Anthropology
Film Festival 2009
Pärnu
Estonia
July 5-

July 26

EFF2009 – Etnia

Film Festival 2009

Turku
Finland
October 8-

October 11

Filmfoyer
Tilburg
The Netherlands

Tues

April 10
19.45
Plaza Futura
Eindhoven
The Netherlands
Thurs
April 19
21.15
Verkadefabriek
Den Bosch
The Netherlands
Wed
April 25
19.45
Filmtheater Fanfare
Oudenbosch
The Netherlands
Thurs
April 26
20.15
Chassé Cinema
Breda
The Netherlands
Sun
May 6
16.30
TAC
Eindhoven
The Netherlands
Fri
May 11
20.00
Electron
Breda
The Netherlands
Fri
May 25
20.30
Filmfoyer
Tilburg
The Netherlands
Tues

May 29
19.45
Rechten faculteit
Leiden
The Netherlands
Thur
feb 7
16:30
Mathers Museum of
World Cultures

Bloomington, Indiana
USA
–
March
21- 30

–
Savoy Theater,
Green Mountain Film Festival
Montpelier, Vermont
USA
–
March 24-30
–
South Florida Museum

Bradenton, Florida
USA
–
March 4-
April 1
–
Dutchess Community College
Poughkeepsie,
New York
USA
–
Feb 21-April 25
–
Field Museum

Chicago,
Illinois
USA
–
Sept 28
–
GRITO de PIEDRA publications
Solo publications

(selection)

IDFA Daily / English / 356 kb (International Documentary Festival Amsterdam)
IDFA Dagkrant / Dutch / 870 kb (International Documentary Festival Amsterdam)
Brabants Dagblad (Dutch Newspaper) Dutch / 500 kb
BN De STEM (Dutch Newspaper) Dutch / PDF 800 kb
De Bernhezer (Dutch Newspaper) Dutch / PDF 304 kb
NFTVM (Dutch film&television union) Work nomination award 2006

Press work

(selection)

Margaret Mead Travelling Festival, Winnipeg, 2009 & Poster
Margaret Mead Festival, New York, catalog 2007
Astra film, Sibiu (Romania), 2007
DOCSDF Film Festival, Mexico, catalog 2007
Netherlands Film Festival, Utrecht, catalog 2007
Festival de Cine de los derechos humanos, Sucre (Bolivia),catalog 2007
Ecofilms visual art festival, Rhodos (Greece), 2007
Vereniging Brabantse Filmtheaters, Brabant, Flyer 2007
Filmfoyer 2007 / ticket
GRITO de PIEDRA Boomerang card original
Fanfare Flyer 2007
Interviews
Radio interview, Ecofilm festival, Rhodos, Greece, 2007 (Mpeg4)
Masterclass with Cherry Duyns (Hollanddoc), Nijmegen, 2008

Internet film publications

(selection)

VBF Brabantfilm, 2007
Images Festival Toronto, 2007
IDFA 2006 / IDFA GREEN CODE DISCUSSION
Filmkrant October 2006
GRITO de PIEDRA press kit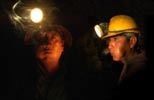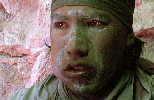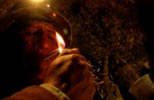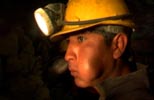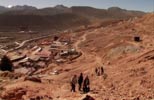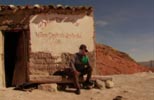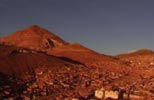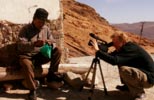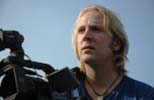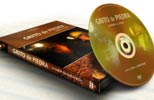 We appreciate it a lot if you buy our films, so that we can continue to make important documentaries in the future. Educators and community organizations, please respect purchasing and screening guidelines.