PRODUCENT | ANNEROSE LANGEVELD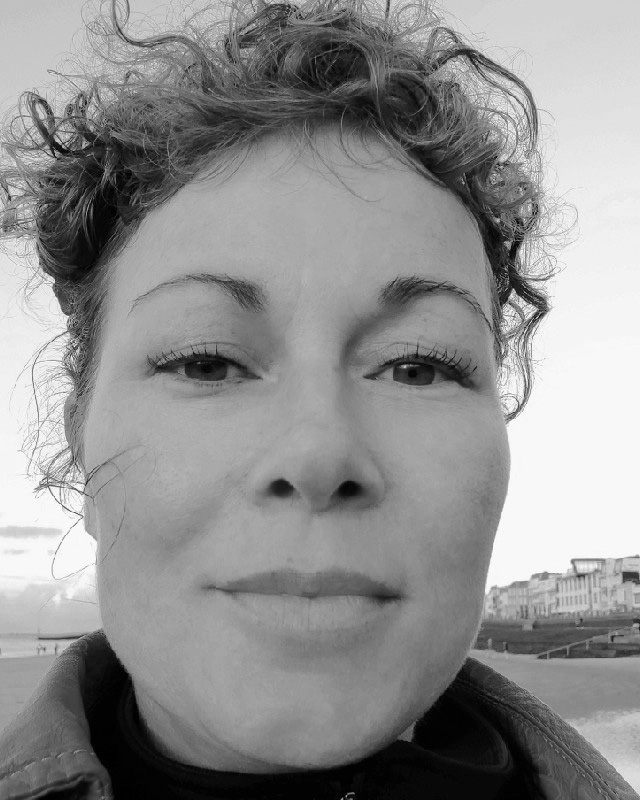 Annerose Langeveld (1981) is een gedreven producent bij NEWTON film. Na haar afstuderen aan de Kunstacademie St. Joost, waar ze zich richtte op Sculptuur, behaalde ze cum laude haar diploma als eerste graad docent Beeldende Kunst en Vormgeving. Haar carrière begon in de beeldende kunst, waar ze indrukwekkende hyperrealistische beelden van dieren creëerde om bewustzijn te genereren over urgente problemen op onze planeet, zoals het uitsterven van diersoorten.
Geleidelijk aan maakte Annerose Langeveld de overstap naar de filmsector, waar ze begon met ondersteunende taken tijdens het filmen, set geluid en andere uitvoerende productiewerkzaamheden. Door haar toewijding en inzet groeide ze uit tot producent bij NEWTON film, waar ze betrokken was bij diverse films, waaronder twee korte Teledoc Campus documentaires en de lange documentaire "a TRAVELERS GUIDE." Daarnaast is ze ook de directeur en producent van Stichting NEWTON film.
Met haar unieke achtergrond, zachte karakter en ervaring als producent voegt Annerose een speciale waarde toe aan de producties waar ze bij betrokken is. Haar passie voor storytelling en haar creatieve visie maken haar een onmisbare kracht bij NEWTON film.
Personalia
Annerose Langeveld (Breda, 1981)
Functie: Directeur / Producent
Productiebedrijf: NEWTON film B.V. / Stichting NEWTON film
E-mail: annerose@newtonfilm.nl
website: newtonfilm.nl
overig: IMDB | LinkedIn
Opleidingen
2005 -2007 Academie voor Beeldende Vorming, Fontys Hogeschool Tilburg, Docent beeldende kunst en vormgeving, 1ste graad, cum laude behaald.
1999 -2003 Academie voor kunst en Vormgeving St. Joost, Avans Hogeschool Breda, studierichting autonome beeldende kunst, diploma behaald.
1995 -1999 VWO, Cambreur College, Dongen/ HAVO, IDBS, Breda, diploma behaald.
relevante werkervaring
2022-heden Producent, Klantreis, documentaire, in ontwikkeling, Stichting NEWTON film
2022- 2023  Het Beloofde Land, ontwikkeltraject voor producenten, met workshops, masterclasses, door Screen Talent NL
2022-heden  Producent, Thuis Ontheemd, korte fictiefilm, in ontwikkeling, Stichting NEWTON film
2020-2022 Producent a Traveler's Guide, regie Josefien van Kooten/ Ton van Zantvoort, 63 min, 2022,
2021-heden Uitvoerend producent, ANIMA, Teledoc Campus, HUMAN, in ontwikkeling
2021-2022 Set geluid, a WORLD to SHAPE, AVROTROS, Close Up, Elbe Stevens Films, 2022
2018-2020 (Uitvoerend) producent, Het Gat In Ons Leven, EO, ontwikkeld, niet gerealiseerd
2018-2020 (Uitvoerend en co-) producent, Honds, J. van Kooten,Teledoc Campus, KRO-NCRV, 2020
2016 – 2019 Uitvoerend producent, geluid, pr & marketing, documentaire SCHAPENHELD, 2018
2014-2015 Geluid, postproductie supervisor, De Benno Tapes, 2015
2013-2014 (Uitvoerend en co-) producent, documentaire Vallend, NEWTON film, 2014.
2013-2017 Producent, geluid, documentaire "All of us", NEWTON film, in ontwikkeling.
2011 Bestuurslid Stichting TEEK, www.stichtingteek.nl 2011-heden.
2011 Co-regie, uitvoerend producent, geluid, Past as Future, 2011, NEWTON film
2010 Geluid voor Zuidewind filmproductie, documentaire "Kees en Mien" van Ton van Zantvoort.
2010 Uitvoerend producent korte documentaire "Lovely planet ", van Ton van Zantvoort.
2009 Ondersteuning productie documentaire "a BLOOMING BUSINESS " NEWTON film.
2008 Creatieve workshops voor jongeren met een autistische stoornis, BOBA, Dordrecht.
2008Docent tekenen en Kunst aan 3,5 en 6 VWO en HAVO, St. Odulphuslyceum, Tilburg.
2007 Uitvoerend producent, documentaire "GRITO de PIEDRA", Ton van Zantvoort, juni-nov.
Filmfestival vertoningen (selectie)
Nationaal – IDFA International Documentary Film Festival, Amsterdam (2018, 2010, 2006, 2005); Nederlands Film Festival, Utrecht (2019, 2014, 2009, 2007, 2005);
Europees – DOK Leipzig, Duitsland; Visions du Réel, Zwitserland; Thessaloniki Documentary Festival, Griekenland (2009,2019);  DOK.fest, München; Festival dei Popoli, Italië; Documenta Madrid, Spanje; Millennium Docs Against Gravity, Poland; Docpoint Helsinki, Finland; Docville, Belgie; Edinburgh International Film Festival, One World Praag, Tjechië; Dokufest, Kosovo; MakeDox Macedonië; Moldox, Moldavië; European Film Festival Palić, Serbië; Eberswalde Film Festival – Provinziale, Duitsland; UK; Art of the Document Multimedia Festival, Polen; Split International Festival of New film, Kroatië; International Millennium Film Festival, België; International Film Festival for Human Rights, diverse locaties in Frankrijk; International Audiovisual Festival of Biodiversity, Italië, Kinookus FFF, Kroatië; Sunchild Film Festival, Armenië; This Human World, Oostenrijk; Jihlava IDFF, Tsjechië ; CineEco Portugal;
Wereld – Vancouver International Film Festival, Canada; Planet in Focus, Toronto; Montreal Human Rights Film Festival; Margaret Mead Film Festival & travelling selection, New York, Chicago, Florida, Vermont, Indiana; BAFICI Buenos Aires; DOCSMX Festival Internacional de Cine Documental, Mexico; Animal & Nature Film Festival, Beijing, China; Film Festival Arlington, Virginia, USA; Duke City DocFest, Albuquerque, New Mexico, USA; Criterio Ambiental, Costa Rica; Short Film Festival, Moscow; International Documentary Festival, Agadir, Marokko; Green Film Festival, Seoul, Korea; New Zealand International Film Festival, Nieuw Zeeland; Flahertiana International Documentary Festival Russia; BIFED, Turkey; Festiver Festival Barichara, Colombia,
Recensies SCHAPENHELD
Trouw "Filmmoment van 2019, niet te missen!"
Volkskrant ★★★★ "Een visuele ode aan een oerlandschap. En als er een ooit een prijs bestaat voor de mooiste drone-filmbeeld mag Schapenheld winnen."
Nederlands Dagblad ★★★★ "Schapenheld laat je echt meeleven met Stijn."
Indebioscoop ★★★★★ "een ijzersterke film"
Filmvandaag ★★★★ ½ "Alles klopt aan Schapenheld. Er is een compleet verhaal, afgewisseld met prachtige beelden en schitterende personages. Niets hiervan zou misstaan in een speelfilm."
De Protagonisten ★★★★ Een aanrader. De beelden zijn prachtig – ook Nederland heeft hele mooie natuur – en oprechter dan Stijn kom je ze bijna niet meer tegen.
De Standaard ★★★★ Een gevoelig tijdsdocument
De Morgen ★★★★ Hypnotiserend mooi